Are you up for the challenge?
Boss' Blind Date is an immersive fundraising event developed by Guide Dogs SA/NT and inspired by the vision of Westpac's State General Manager, Lester Wynne-Jones. The event encourages South Australias top bosses and business leaders across the state to step out of their comfort zone by working blindfolded for a day.
Lester describes the event as a "unique and special opportunity to support the community, giving everyone a deeper understanding of the daily difficulties faced by those with little or no vision".
Boss' Blind Date will help Guide Dogs SA/NT raise vital funds to support our clients, while also providing CEOs and their work teams with a rich experience in inclusion, team building and compassion.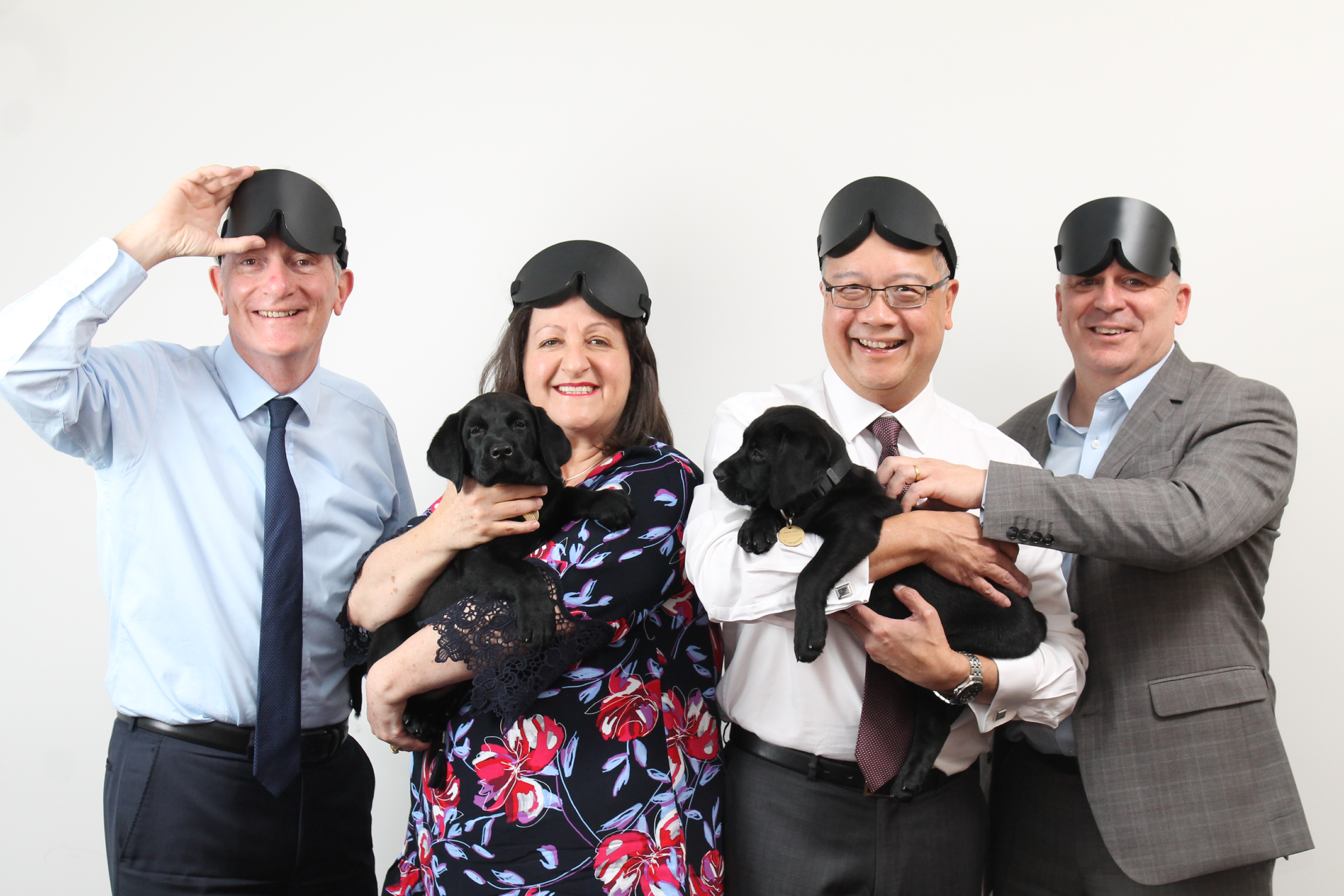 "I did enjoy the day and now have a fantastic understanding and appreciation for what people with a vision impairment have to live with every day. It was not easy, and the work Guide Dogs does is absolutely worth supporting."

– Tony Perugini (District Executive, ANZ)
This unique workday challenge will give you a rare insight into another world –
a world of darkness and uncertainty
Taking part in the challenge will involve spending a day at work (9am – 3pm) in the month of March without vision, to raise vital funds for Guide Dogs SA/NT. Wearing a blindfold, you will encourage your colleagues, friends, family and business contacts to donate by completing a variety of challenges such as taking public transport, eating out, and leading a meeting. Compete against other business leaders in your field to see who can rise to the challenge and meet their fundraising target.

$3,500
Fund a Guide Dog in training for the first 10 weeks of their life in the Puppy Development Centre – 10% of their 100-week journey to become a Guide Dog or Autism Assistance Dog.

$6,583
Provide intensive, in home training for a vision impaired person and their Guide Dog after being matched.

$9,435
Run a 5-day Life Skills Camp for a group of 10 vision impaired young people, where they will learn invaluable skills and develop their confidence and independence in a fun and supportive environment.
A little extra help for your day in darkness
Raise $500 to unlock your challenges and receive your assistive devices kit. This kit is designed to help you throughout your day. It will include some of the adaptive aids that Guide Dogs provide to people with vision loss to help them complete their daily activities. But the best part of raising enough to receive this kit is knowing that you can pay it forward!
These devices are real and are used by clients with vision impairment every day.

Blindfold
What would Boss's Blind Date be without your blindfold?

Bank Note Measure
Measure your bank notes to pay for your lunch with this simple tool.

Coin Buddy
Measure your coins and easily identify them to cover the cost of your coffee.

ID Cane
Identify yourself as being without vision, assisting with public visibility.

Liquid Level Indicator
Pour yourself a cold drink throughout your day
Signature Guide
Take some time to sign off on the important stuff.
Pay it forward
After you've participated in Boss' Blind Date, you will return your kit for it to be paid forward to a client living with vision loss, making a direct impact in your community.